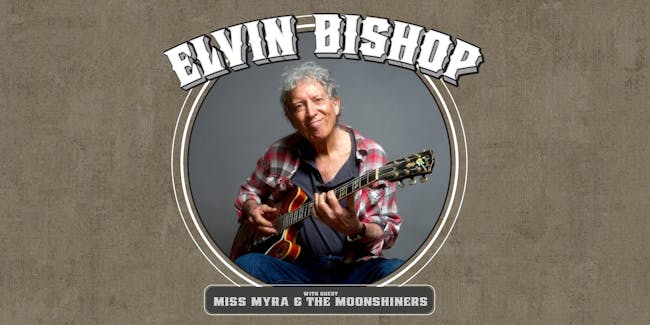 Presented by Medina Entertainment Center
ELVIN BISHOP
MISS MYRA AND THE MOONSHINERS
ELVIN BISHOP'S BIG FUN TRIO with Guest Miss Myra and The Moonshiners
Elvin Bishop has been RESCHEDULED for SATURDAY, JANUARY 9, 2021. If you can go on the new date, please keep your tickets they will be honored that night. If you are unable to make the new date we can get you a Refund. Call our Box Office at 763-478-6661. Thank you!
*Must Present a Valid ID for Admittance. Tickets are Not Refundable.
For GOLD and SILVER Seating - You are assigned to a specific Table, but not a specific seat. Seats at that table are on a first come, first serve basis. No Standing Allowed in the Gold or Silver Sections.
For GENERAL Seating - Tables and Chairs on the Outside of Dance Floor. Not Assigned Seats and First Come, First Serve.
This show is 21 Years and Older.
Tickets are $5 More Day of Show.
Ticket Price Includes a $3 Facility Charge.
Free Parking!
For Questions email us at Medina@MedinaEntertainment.com or Call the Medina Box Office 763-478-6661. All Dates, Prices, Times, and Bands are Subject to Change. Medina Inn 763-478-9770.

Ever since Rock & Roll and Blues Hall Of Famer Elvin Bishop first hit the scene with the Paul Butterfield Blues Band back in 1965, he's blazed his own musical trail. Whether he was playing raw, eye-popping blues, or penning the evergreen radio hit Fooled Around And Fell In Love, or touring the world for decades delivering his original, good-time countrified blues, Bishop has always inspired his fans with his rowdy guitar playing and witty, slice-of-life songs. Rolling Stone calls Bishop "a legendary guitarist" whose playing is "impeccable and spirited…a distinguished American player."

Venue Information:
Medina Entertainment Center
500 Hwy 55
Medina, MN, 55340