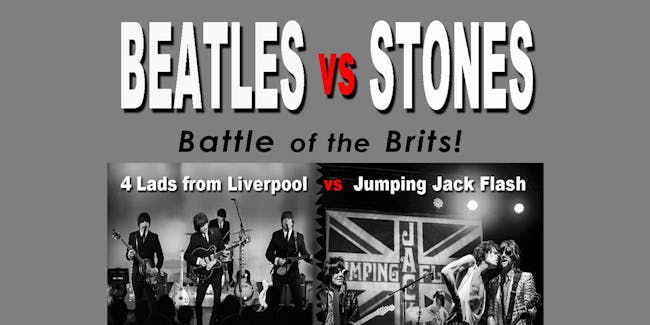 Presented by Medina Entertainment Center
BEATLES VS STONES
4 Lads From Liverpool, Jumping Jack Flash
BEATLES vs STONES (The Greatest Show That Never Was!) is the story of the infamous rivalry between the two greatest bands of rock and roll.
Beatles vs Stones have been RESCHEDULED AGAIN for SATURDAY, FEBRUARY 6, 2021. If you can go on the new date, please keep your tickets they will be honored that night. If you are unable to make the new date we can get you a Refund. Call our Box Office at 763-478-6661. Thank you!
*Must Present a Valid ID for Admittance. Tickets are Not Refundable.
For GOLD and SILVER Seating - You are assigned to a specific Table, but not a specific seat. Seats at that table are on a first come, first serve basis. No Standing Allowed in the Gold or Silver Sections.
For GENERAL Seating - Tables and Chairs on the Outside of Dance Floor. Not Assigned Seats and First Come, First Serve.
This show is 21 Years and Older.
Tickets are $5 More Day of Show.
Ticket Price Includes a $2 Facility Charge.
Free Parking!
For Questions email us at Medina@MedinaEntertainment.com or Call the Medina Box Office 763-478-6661. All Dates, Prices, Times, and Bands are Subject to Change. Medina Inn 763-478-9770.

Beatles vs. Stones
The Greatest Show That Never Was!

Beatles vs Stones (The Greatest Show That Never Was!) is the story of the infamous rivalry between the two greatest bands of the rock & roll era, and is a thrill-ride of a show! It's comprised of six alternating mini-sets of the greatest hits on earth—the soundtrack to the lives of millions of people around the world. The two bands (4 Lads From Liverpool vs. Jumping Jack Flash) exchange humorous good-natured barbs through-out the show, setting the stage for the grand finale as both bands appear on-stage together—a historical precedent. The greatest battle of the bands that could ever be, with you in the front row!

Venue Information:
Medina Entertainment Center
500 Hwy 55
Medina, MN, 55340